The Rich History of Miller Plant Farm
Miller Plant Farm has been a part of the York, PA community since Howard R. Miller purchased the original thirty-five acre farm on April 1st, 1912. Through the years more land was added to the family farm, and today about 200 acres is farmed.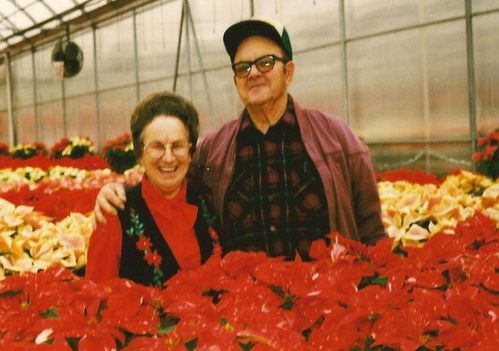 Jacob (son of Howard) and wife Ada Miller began the greenhouse business by building the first greenhouse, still in operation today, in the fall of 1928. The sole purpose of the original greenhouse was to produce vegetable transplants to get a 3-5 week head start on other local farmers starting plants from seed in the field. When Jacob was finished producing vegetable transplants in the greenhouse, Ada would sow flower seeds to produce flower plants for sale at local farmers markets. More greenhouses were built in the 1940s as the business expanded to supply transplants to other farmers.
John (son of Jacob) and wife Betty Miller took over the business in the 1950's and more greenhouses were built. The ornamental end of the business started to take shape with Betty's managment.
Today, David (son of John), along with Dustyn Miller (son of David), Steve Slyder (nephew of David), and Courtney (Miller) Fauth (daughter of David), manage the farm and garden center consisting of 29 greenhouses which add up to about 62,000 sq. ft. of covered, heated growing space. Included in the business is the Miller Plant Farm stand at New Eastern Market. Steven, Dustyn, and Courtney represent the fifth generation to operate the business and take care of the land that Howard purchased in 1912.
Our goal through five generations has been and will be to provide both the home gardener and the commercial farmer with the highest quality plants and the best varieties available.